◆ Finding Your Output Log ◆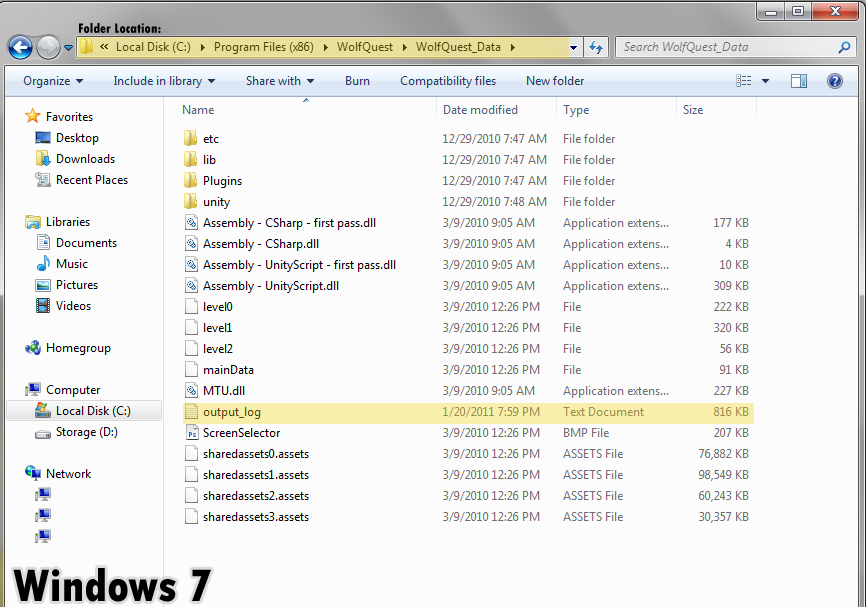 The areas highlighted in
yellow
show the directory path to follow to get to your output_log.
However
, if you use Vista or Windows 7, please read the next section below, as you may be required to do an extra step before you'll be able to see your output_log in the data folder.
◆ Vista and Windows 7 - Run As Administrator ◆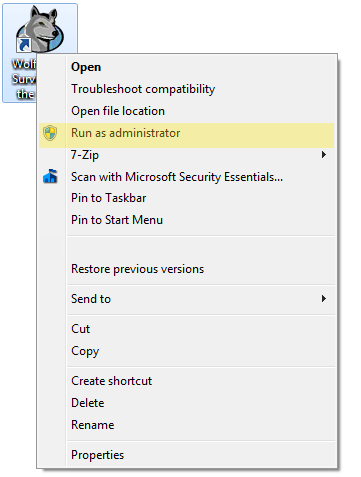 What do you mean "Run As Administrator"?
WolfQuest Community members who run
Vista or Windows 7
may have had difficulty finding their
output logs
at first, thanks to some default security settings with these two operating systems. In simple terms, these setting will prevent your output log from showing up in your WolfQuest data folder. A quick and simple way to fix this problem, without manually lowering your overall security settings on your computer is to
right click
on your WolfQuest desktop game icon, and
Run as Administrator
. Once you have selected this, your output log should now show up in the data folder the
next time your start WolfQuest
.
** This is not necessary for Window XP users. **
Note:
If you are not the computer administrator (on a family computer) and/or have computer restrictions---then be sure to get your parent/guardian or the computer administrator to enable this for you.
◆ An Example of an Output Log File ◆
This is an
example
of what an output log looks like when opened up in notepad, wordpad; whatever you like to use to view documents. The areas highlighted in blue will show your
computer's graphics card
,
version of Direct3D
,
VRAM
, and
computer resolution
. Obviously, in this particular screenshot these specs have been removed and edited for the FAQ, as each user will have different information at the top of their output log. However, these specs are
essential
(as well as
your OS
) when you are submitting a bug report. Be sure to submit the
ENTIRE
output log file when submitting a bug report.
We
really
want and need our members to include their output logs when reporting multiplayer abuse or bugs & glitches--so
please
make sure you include them in those bug reports or multiplayer chat abuse emails!